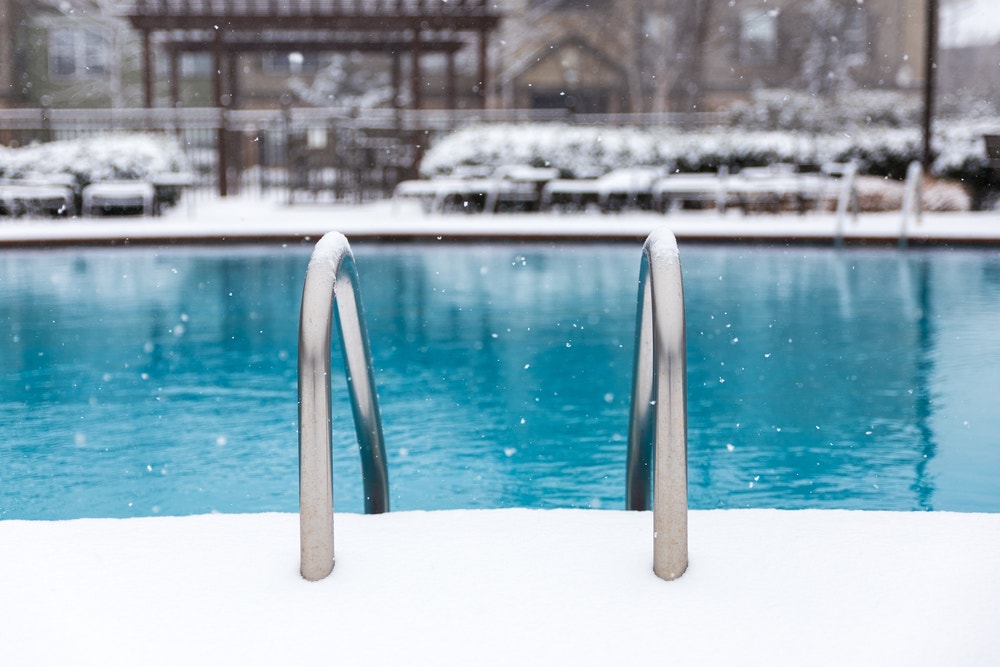 Potential severe winter weather across the nation has received national attention as Americans attempt to prepare their pools and equipment. Areas as far south as Texas could be receiving some unprecedented severe winter weather that includes snow, sleet, and freezing rain this winter.
Many homeowners and businesses are expecting to experience freezing pipes, power outages, and water scarcity. Owners of in-ground and above-ground pools will need to do everything they can to prepare for serious winter weather (much like what occurred in 2021). In worst-case scenarios, pools and pool equipment can be damaged by extreme cold.
With this quick reference guide, we're providing helpful tips for managing pool equipment during cold weather conditions. By following these recommendations, you may be able to minimize the damage to your pool equipment and get your pool up and running after the winter weather passes. Keep in mind that equipment damage from freezing weather is typically not covered by equipment warranties, so it's extremely important for pool owners to prep everything they can for the incoming severe winter weather.
Quick Reference Guide to Cold Weather Pool Management
❄ Run Your Pump When Below Freezing
During deep freeze conditions, it will be imperative that all pumps run while temperatures are below freezing. If you have a controller, it should automatically take over and turn on the pump(s) and rotate between the pool and spa mode on its own. If you do not have a controller, you will need to manage this process on your own.
❄ Cold Weather And Power is On
If you do have power to your home and are not being affected by power outages, keep your pool equipment operating at all times (24/7) until temperatures increase above freezing.
If your power is out or your home is being affected by power outages, keep reading below or contact your local pool professional for assistance:
❄ Cold Weather, But Lost Power
If your power is out and the temperatures are below freezing:
Turn off all pool equipment breakers. Even if your power is off, you must still turn off all breakers that supply power to your swimming pool equipment.
Open the air relief on your filter, and remove the drain plug on the bottom of the filter.
Open the inline chlorinator and let it drain down.
Turn off auto-fill and make sure the feed line is wrapped.
Open the salt cell to remove any water inside the pipe.
Remove the lids of check valves to keep them from cracking.
Unplug and remove your salt chlorine generator cells from the system if you're able, if not, open the salt cell to remove any water inside the pipe

❄ Wait for Ice to Melt Naturally
If ice has formed on your equipment, don't turn the power back on. Wait for any ice that has formed to melt naturally. This will help prevent damage to the equipment once power is restored.
❄ Reinstall Removed Items
Once the ice has melted, re-install the drains and salt chlorine generator cells. Turn on the power to your pool equipment.
❄ Get Expert Help
Always remember you can use your local Hayward pool professional for help. Reach out to a licensed pool professional for assistance, especially if your equipment loses power for an extended period of time. Find your local Hayward Dealer
Prepare for Severe Winter Weather
Although weather conditions can be unpredictable and storms can bring severe conditions, you can take action to protect your pool and its equipment. Refer to this guide for helpful information for managing your pool equipment during freezing cold weather conditions. Also, be sure to check the owner's manuals of your pool equipment for any other tips to help protect your pool equipment during freeze conditions.