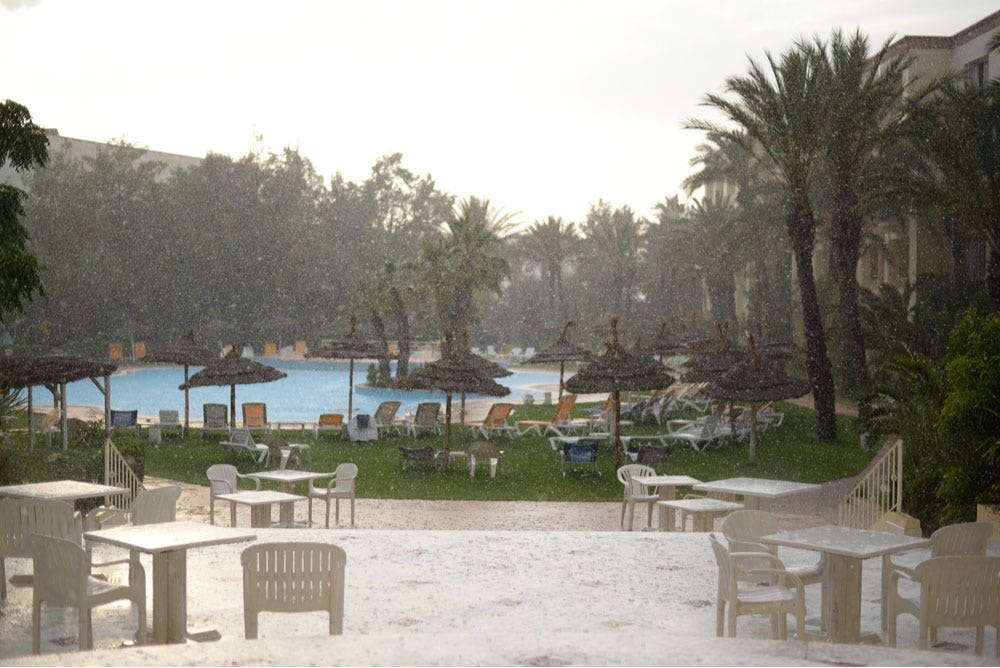 Hurricane information and resources can be beneficial to US coastal residents in areas affected by hurricanes. These powerful storms can pose a significant risk, causing loss of life and property from winds, precipitation, and storm surges in coastal areas. Let's take a look at how hurricanes form, how they affect coastal communities, and what residents can do to minimize storm impact on homes and swimming pools.
Powerful and dangerous storms
Hurricanes are powerful storms that form over the ocean when ocean waters and air are warm. When these storms reach speeds of at least 74 mph, they are called a 'hurricane'. The storm's wind speed determines the hurricane category, from Category 1 (up to 95 mph) to Category 5 (over 157 mph). Storms in the Atlantic Ocean that develop into hurricanes occur roughly around June 1st through November 30th . Hurricane Season in the Pacific Ocean occurs from about May 15th through November 30th.
When these storms reach land, they begin to lose power but they bring torrential rainfall, destructive winds, and deadly storm surges (abnormal rise in the level of water). In addition, they may spawn tornadoes. Hurricanes cause severe damage, deaths, homelessness, loss of business, and outbound migration.
Helpful hurricane information and resources
Before, during and after a hurricane, affected homeowners have much to deal with. Our thoughts and prayers are with those affected by hurricanes as they navigate this difficult time.
When the time comes to recover your pool, remember that local Hayward pool pros are a great resource for hurricane-related pool questions. Contact your Hayward dealer for information about preparing your pool for hurricanes and getting your pool up and running after a hurricane hits. Find your local Hayward Dealer by entering your zip code here.
If your pool equipment has been exposed to flood water, call a Hayward pro to have it inspected for damage. Multiple components may be affected and they may need to be replaced. Exposure to flood water is not covered under manufacturer's warranty.
You can also find helpful tips from many online sources. Read these informative blog articles and online hurricane information and resources to learn more about the effects of hurricanes, how you can prepare and stay safe during a hurricane, and how you can recover after a hurricane:
Hurricane Preparedness and Response
Hurricane Safety and Returning Home
Hurricane Safety Tips and Resources
Prepare for a Hurricane
Rain Affects Pool Water
Flooded Pool Recovery Tips
Hurricanes in History
On average, 2 hurricanes form over the Atlantic and Pacific Oceans, the Caribbean Sea, and the Gulf of Mexico in a typical hurricane season. Although many coastal areas can be affected by hurricanes, about 40% of US hurricanes make landfall in Florida. The majority of the strongest Atlantic hurricanes make landfall in Florida or Texas.
Did You Know? The deadliest hurricane occurred in 1900 when a Category 4 storm buffeted Galveston, Texas. The island was hit with 130 mph winds, a 15-foot storm surge and 8 to 15-foot waves. As a result, about 8,000 lives were lost. Following the hurricane, the city built a seawall and raised the level of new buildings.
In more recent history, Hurricane Katrina, a Category 5 storm, hit Louisiana in 2005 causing over 1,800 deaths. In addition, over 1 million people were displaced. It was also the costliest US hurricane on record. Hurricane Harvey, a Category 4 storm, made landfall in Texas in 2017. The slow-moving storm caused catastrophic flooding and over 100 deaths. Just last year in 2020,
Hurricane Laura brought extreme winds and rainfall and took 77 lives when it made landfall in Louisiana. It was a Category 4 hurricane, the strongest hurricane on record to hit Louisiana, with a storm surge of 17-feet.
Arthur, Ana or Alex: How hurricanes are named
The naming of hurricanes by the National Hurricane Center began in 1953. At the time, and for many years after, all storms were given women's names. This practice ended in 1978 when men's names were added to the mix.
Currently, the World Meteorological Association, an agency of the United Nations, is in charge of hurricane naming. Hurricanes are named alphabetically, starting each season with A and continuing throughout the season. In the recent past, the names Arthur, Ana, Alex, Arlene, Alberto and Andrea have been the names assigned to the first Atlantic hurricanes of the season.
Interestingly, the list of names is recycled every six years. The only exception to the recycling of storm names is when names are retired. This only happens when hurricanes result in extreme destruction and death. The World Meteorological Organization's Hurricane Committee is responsible for choosing the names that will be removed from future lists. 93 names have been retired in the history of naming hurricanes, including Laura, Eta and Iota in 2020. Storms in 2021 will have the same names as hurricanes in 2015.
Hurricane Names for 2023
These are the names that will be used in the coming Atlantic hurricane season: Arlene, Bret, Cindy, Don, Emily, Franklin, Gert, Harold, Idalia, Jose, Katia, Lee, Margot, Nigel, Ophelia, Philippe, Rina, Sean, Tammy, Vince and Whitney. If needed, a supplemental list of names will be applied if it is a very active hurricane season.
As always, stay tuned to Hayward Insights and follow us on our socials (Instagram, Facebook, Pinterest, YouTube) for more helpful tips on all things Hayward!