DOE POOL PUMP REGULATORY CHANGES ARE HERE.
HAYWARD HAS COMPLIANT SINGLE- AND
VARIABLE-SPEED PUMPS.


New regulatory standards set by the U.S. Department of Energy (DOE) affect in-ground and above-ground residential and commercial pumps
above 1 HP and up to 2.5 hydraulic horsepower.
Hayward has a broad range of compliant pool pumps that meet the new standards, including:


All Hayward 1 HP Super Pump® single-speed models
All Hayward 1 HP MaxFlo XL™ single-speed models
All Hayward variable-speed models


Hayward is the industry leader in energy efficient variable-speed pumps as measured by the new DOE weighted energy factor (WEF) standards, boasting the industry's highest WEF rated pool pump per published ENERGY STAR® data(opens in a new tab).
Find Hayward pump replacements for single speed, two-speed and variable-speed models.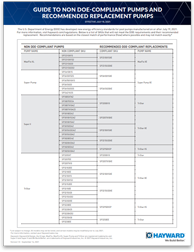 THE TRUTH ABOUT DOE CHANGES.


Effective July 19, 2021, the goal of the new DOE pool pump regulatory standards is to reduce energy usage.

DEALER INVENTORY NOT AFFECTED
Dealers can sell and install any pump models until inventory runs out
After July 19, 2021, manufacturers are responsible for producing pumps that comply with new regulations

MAJOR BENEFITS FOR YOUR CUSTOMERS
New labeling requirements make it easy for consumers to compare efficiency of pumps
Higher efficiency standards help consumers save energy and money

A NEW WAY TO MEASURE ENERGY EFFICIENCY
Weighted energy factor (WEF) is the new standard for evaluating pump efficiency
The higher the WEF rating, the more efficient the pump
CHECK OUT OUR ONE-PAGE DOE FACT SHEET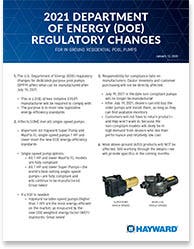 DOE RESOURCE CENTER.


FREQUENTLY ASKED QUESTIONS


HAYWARD'S DOE FACT SHEET


HAYWARD'S ONE-PAGE WEF GUIDE


BLOG POST: WEIGHTED ENERGY FACTOR FOR POOL PUMPS


HAYWARD'S DOE WEBINAR




HAYWARD'S DOE REGULATORY WHITEPAPER




IN-GROUND RESIDENTIAL QUALIFYING PUMPS LIST




ABOVE-GROUND RESIDENTIAL QUALIFYING PUMPS LIST


COMMERCIAL QUALIFYING PUMPS LIST


SEE WHAT THE CHANGES MEAN FOR YOU.
Learn more about the new DOE regulatory changes and find out what you can do to prepare.
HAYWARD DOE WEBINAR PART I
VSP TOTAL COST OF OWNERSHIP
UNDERSTANDING WEIGHTED ENERGY FACTOR (WEF)
HAYWARD DOE WEBINAR PART II
RELATED ARTICLES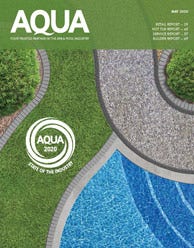 STATE OF THE INDUSTRY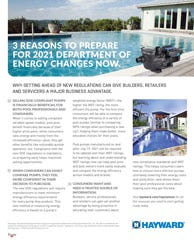 PREPARE FOR DOE NOW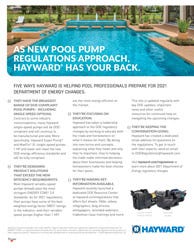 HAYWARD HAS YOUR BACK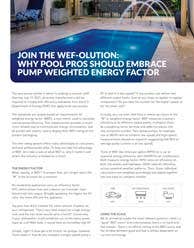 WHAT IS WEF?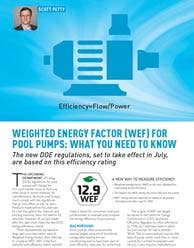 HAYWARD EXPLAINS WEF
QUICK GUIDE TO WEF