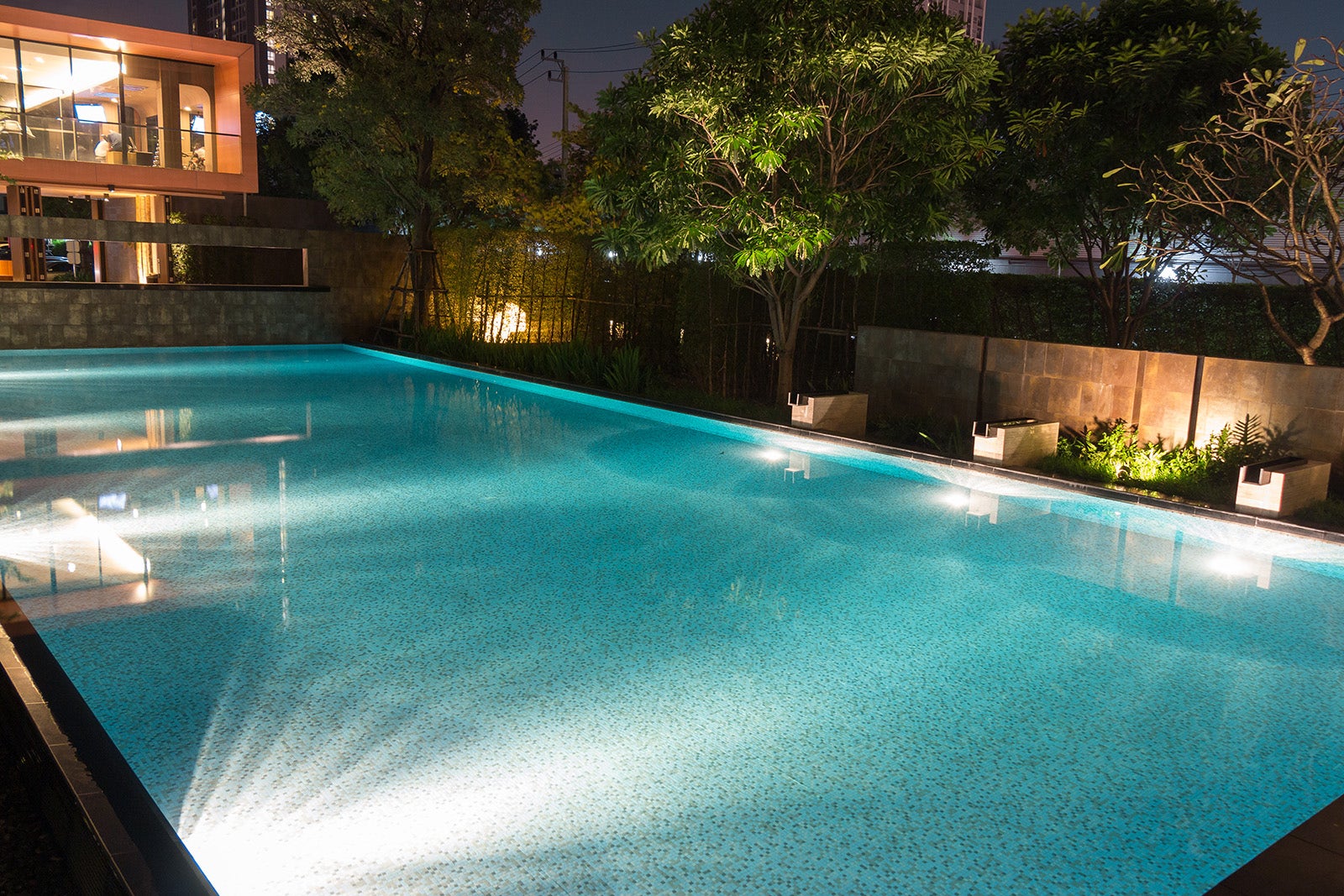 Get ready to transform your backyard into a mesmerizing oasis! Hayward's captivating pool lighting, water features, and our all-new LED water bowls can add a touch of magic and elevate your pool experience. Discover the secrets to creating a sparkling and enchanting ambiance that will leave your family and friends amazed.
Adding new lighting and water features can make your pool feel truly unique, bringing a whole new look and feel to your backyard environment. In addition, swimming pool lighting can extend your family's time outdoors and enhance visibility and safety. Controlling your new pool lighting and water features is truly effortless with Hayward's simple and intuitive OmniLogic pool and spa controller. With the help of your local Hayward Dealer, you can easily incorporate energy-efficient, bright LED lighting and stunning water features to your backyard environment now.
Get the new pool season off to an exciting start. Learn about the innovative, new options in pool lighting and water features here.
Add Sparkle and Shine: Swimming Pool Lighting
Have you noticed how lighting adds a brilliant, sparkling effect on a pool's water surface in the evening? It's truly lovely and mood-lifting! And we all need that, now more than ever. Pool lighting also adds depth, mystery, and drama to enhance your swimming and backyard experience. Not only that, but lighting improves night-time visibility and safety. Swimmers are easier to see and parents appreciate that they can better monitor their children. Lights enhance contrast, discretely highlight transitional areas, and define pool steps, Baja shelves, deck areas, and pool edges.
In addition, lighting allows you to extend your pool use and fun, well past the day-time hours. After night falls, dive in for a relaxing swim enhanced with ambient lighting. Follow up with a favorite beverage poolside for a perfect end to your day.
With added lighting, you can also celebrate evening get-togethers and pool parties with friends and family. On special occasions, you're not limited to scheduling daytime events. Surprise and delight guests with automated and timed color effects to add a playful, festive note to your special events and themed parties.
Hayward Pool and Spa lighting includes a range of brilliant ColorLogic lights, our newly acquired J&J lights, and even Sollos landscape lighting.
Accent Lights
Hayward's flexible and innovative ColorLogic LED accent lights highlight special features in your yard. For example, these small vibrant lights add sparkle and shine to steps, fountains, and bubblers. Accent lights also enable the coordination of small features with your pool and spa.
Pool & Spa Lights
Create a nighttime oasis of relaxation by adding Hayward Universal CrystaLogic, ColorLogic, and AstroLite lights to your pool and spa. With Hayward's wide range of bright, energy-efficient lighting options, you can enjoy your backyard all day and into the night. Or retrofit your pool's existing lighting fixtures to LED for an instant upgrade.
Add Sparkle and Shine: Water Features
Do you love the look and sound of moving water? It's so captivating! Did you know that you can add the dynamic visual and acoustic effect of moving water to your own backyard pool? Pool water features add drama, excitement, fun, and animation to your family's pool experience.
If you want to make your swimming pool or spa stand-out this year, take a look at Hayward's family of water features. Our innovative water features offer a variety of effects with stunning results, especially when combined with pool lighting. Not familiar with pool water features? We offer a variety of them below:
Deck Jets
Consider adding deck jets and send an arching stream from your pool deck into your pool water. Add lighting for a stunning effect. The flow and direction of the water can be easily adjusted without tools on Hayward's Deck Jet 500.
Laminars
Create an elegant glass-like rod of arcing water from the pool deck to the water surface. Combine with lighting for a dramatic effect that can be enjoyed day or night. Learn about Hayward ColorLogic Laminars here.
Sheers
Sheers direct a curtain of water right into your backyard pool or spa. Hayward Sheer 500 can be customized in size and volume for a gentle or strong effect. They can also be installed as a straight or curved application to complement your backyard pool or spa. You can bump up the effect of a sheer by adding beauty enhancing, energy efficient white or colored LED lighting.
Bubblers
Bubblers send a cascading column of water from the pool surface into the air above your pool. Hayward ColorLogic Bubblers come in multiple nozzles to achieve a wide variety of water heights and widths. Highlight your bubbler with ColorLogic or CrystaLogic lighting.
Add Sparkle and Shine to your Pool and Spa
If you're looking to enhance your pool and spa this year, look no further than Hayward's family of advanced pool lighting and water features. Get the new pool season off to an exciting start, enhance safety, and extend your family's time outdoors. Find your local Hayward Dealer here.
Visit MyDreamPool.com to see exciting and inspiring pools and spas. Get ideas for making your backyard environment a really unique stand-out this year.