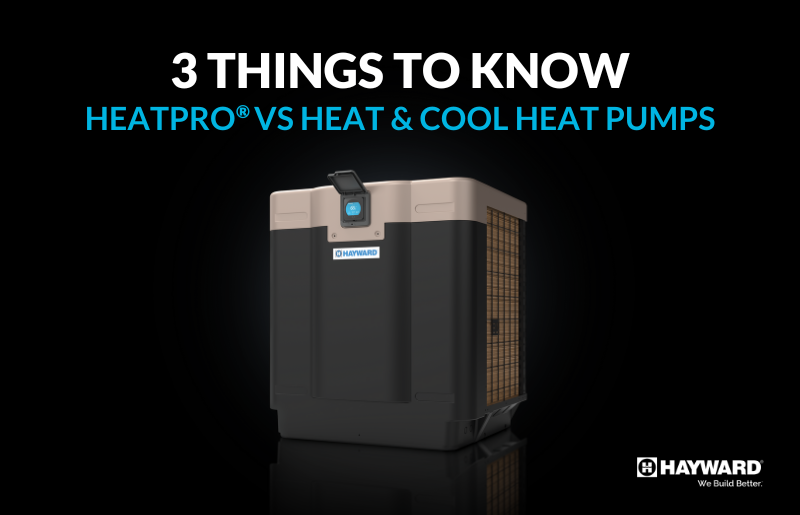 Imagine this: you're a proud owner of an in-ground pool, and you long for the ultimate pool experience, no matter the season. Who can blame you? The desire to enjoy both heating and cooling features in your pool, even during warmer weather, is the dream. That's where the Hayward HeatPro® Heat/Cool Heat Pump(opens in a new tab) comes in. It's the perfect solution to extend the months you can enjoy your pool.
The HeatPro® VS Heat/Cool Heat Pump(opens in a new tab) is the ideal upgrade for pool owners seeking efficient temperature regulation. We set out to deliver the most rugged, energy-efficient and quiet heat pump to get the job done. In-ground pools equipped with this will be able to economically extend their swimming season, from the coolest to the warmest months. Because of its versatility and efficiency, we can think of three reasons as to why you should add this heat pump to your pool experience.
1. Ultra-Quiet, Efficient Heating and Cooling
The HeatPro® VS Heat/Cool Heat Pump(opens in a new tab) is the ultimate money-saving solution for pool owners seeking complete control over their pool temperature throughout the year. With its innovative technology, this heat pump allows you to effortlessly adjust the pool temperature according to your preferences, ensuring optimal comfort regardless of the season. Powered by the same variable-speed technology as our industry-leading pumps, it's no surprise that the HeatPro® VS Series heat & cool heat pump sets the standard for quiet performance. With its industry-exclusive "Silent Mode" setting, it's only slightly louder than a ticking watch, ensuring a peaceful pool environment without any disruptive noise.
Its efficient heating and cooling capabilities, combined with advanced design and smart features, ensure optimal energy efficiency. You'll enjoy precise temperature control while minimizing unnecessary energy consumption. It heats and cools in-ground pool water for perfectly-regulated water temperatures, any time of year so that pool owners can find a new level of relaxation each time they turn it on. In other words, experience ultimate control for your pool without breaking the bank.
2. Powerful Corrosion Resistance
The HeatPro® VS Heat/Cool Heat Pump(opens in a new tab) stands strong against the test of time, thanks to its powerful corrosion resistance. Built with a durable design and equipped with a titanium heat exchanger, this heat pump is engineered to combat corrosion effectively. The titanium heat exchanger provides exceptional durability and reliability, ensuring longevity and sustained performance even in harsh pool environments. Say goodbye to worries about corrosion damaging your heat pump, as the HeatPro VS® Heat/Cool Heat Pump is built to withstand the elements and maintain its efficiency for years to come.
3. Low Ambient Operation
One of the standout features of the HeatPro VS Heat/Cool Heat Pump is its remarkable low ambient air operation down to 40 degrees. But what does that mean for pool owners? Well, even when the air temperature outside hits 40 degrees, these units have the ability to extract warm air from the atmosphere to help maintain your pool water temperature. This is incredibly important because it allows your pool water to retain its warmth during colder weather, reducing the need for excessive energy consumption to reheat a completely cold pool. By leveraging this advanced technology, you can effectively save on energy costs while ensuring your pool remains comfortable throughout the year.
Heat Pump Cost Analysis
Are you on the fence about adding a heat pump to your pool pad? Check out Hayward's Heat Pump Cost Analysis(opens in a new tab). This custom cost analysis compares your current monthly energy prices, and estimates your cost associated with using a Hayward Heat Pump vs alternative heating methods. Find out how you can save today with a heat pump.
Hayward Heat Pump Line
Not looking to heat and cool your pool? Here's our complete in-ground heat pump line(opens in a new tab). Or maybe you're looking for an above-ground heat pump(opens in a new tab)? We have you covered. Hayward has a complete line for in-ground and above-ground pools of any size, to suit every budget.