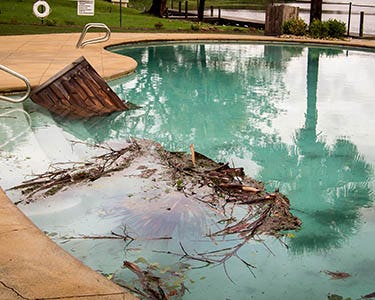 HURRICANE PREPAREDNESS
Keep your pool equipment safe during a hurricane
Keep your pool equipment safe during a hurricane
Rainwater is known to have acidic properties that can negatively affect your pool water chemistry balance. This can affect anything from the pH balance to alkalinity levels and more. The pH of rain across the US, which is all acid rain, is due to industrial gasses (i.e. NOx, SOx) which make nitric and sulfuric acid.
Aside from rainwater falling directly into your pool being a bad thing, something even worse can happen. When you have rainwater coming off your landscape or deck, you now have an added source of water to deal with. When rainwater and 'run off' enter the pool, they can change your water's pH, calcium hardness, total dissolved solids (TDS), alkalinity and other chemical levels as well as bring contaminants (e.g. debris, dirt) into the pool. Because rainwater is generally acidic (see map showing pH of rainwater across U.S), then your pool water can become corrosive and cause damage to the plaster and metal parts of your pool.
The extent of the chemistry issues you'll experience will depend on how much rain you get. A light rain, for example, should have very little affect on your pool water. Although, it is always best to be certain that your pool water chemistry is properly balanced at all times.
What Should I Do Now?
Keep ahead of the changes to your water by testing frequently during heavy rain periods. It is also a good idea to drain excess water, bringing your water to an appropriate level for proper skimming. If you have a Diatomaceous (D.E.) or Sand Filter with a multi-port valve, you can simply put it from vacuum to waste mode, to eliminate the excess water without putting the water through the filter.
If rain is a consistent problem, pool owners with cartridge filters should consider installing an outlet valve, after the pump, to pump water down to the proper skimmer level. Always be careful not to drain the water below the skimmer as you could run the pump dry and cause other problems.
Speak to a local pool professional for assistance on re-balancing your pool water after a heavy rainstorm.
Find Pool Professional
We know that many residents of areas affected by storms and hurricanes have to first assess damage and determine next steps for cleanup.
If you experience high winds and flooding, we know you will have many competing priorities and it may be some time before you turn your attention to your swimming pool.
When your main priorities are settled, you don't want to let too much time pass before you evaluate the storm's impact on your pool. Floodwater can contain elements you don't want in your pool, such as sand, algae, phosphates, and sewage.
We've shared a few tips on how to clean your pool following a hurricane.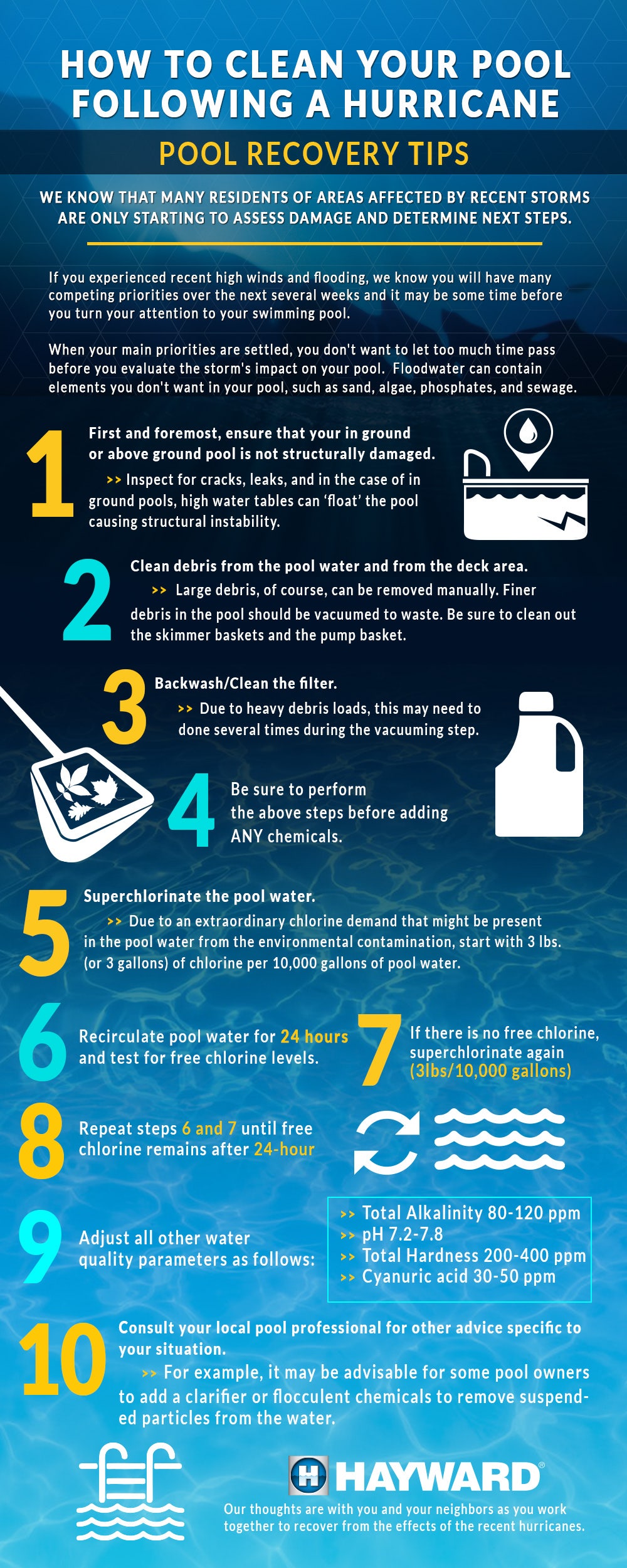 Storm Recovery Resources
We offer a complete network of pool professionals who are ready and able to assist with your pool. Whether you need help diagnosing your current products post-flooding, or even if you'd like to speak with a pool professional about general flooding concerns and what your options are, our network of pool pros are ready to help.
Our thoughts are with you and your neighbors as you work together to recover from the effects of storms and hurricanes.
Find Pool Professional
AFTER THINGS HAVE SETTLED
INSPECT YOUR POOL EQUIPMENT
If electrical or gas pool equipment has been exposed to flood water, multiple components could be affected. For your safety and the long-term reliability of the equipment, we strongly recommend that you have it inspected by a pool professional.
After inspecting your equipment, the pool professional will be able to determine whether it needs to be repaired or replaced.
*Hayward electrical or gas pool products exposed to flood water are not covered under warranty and Hayward will not be responsible for the cost of repair or replacement.
Dealer Locator