EPA Recognizes Hayward's Full Suite of Variable-Speed Pumps with ENERGY STAR Certification
Hayward® offers broadest range of energy efficient variable-speed pumps in the industry
Through ENERGY STAR's rebate program pool owners can now have the most efficient pump at a more affordable price point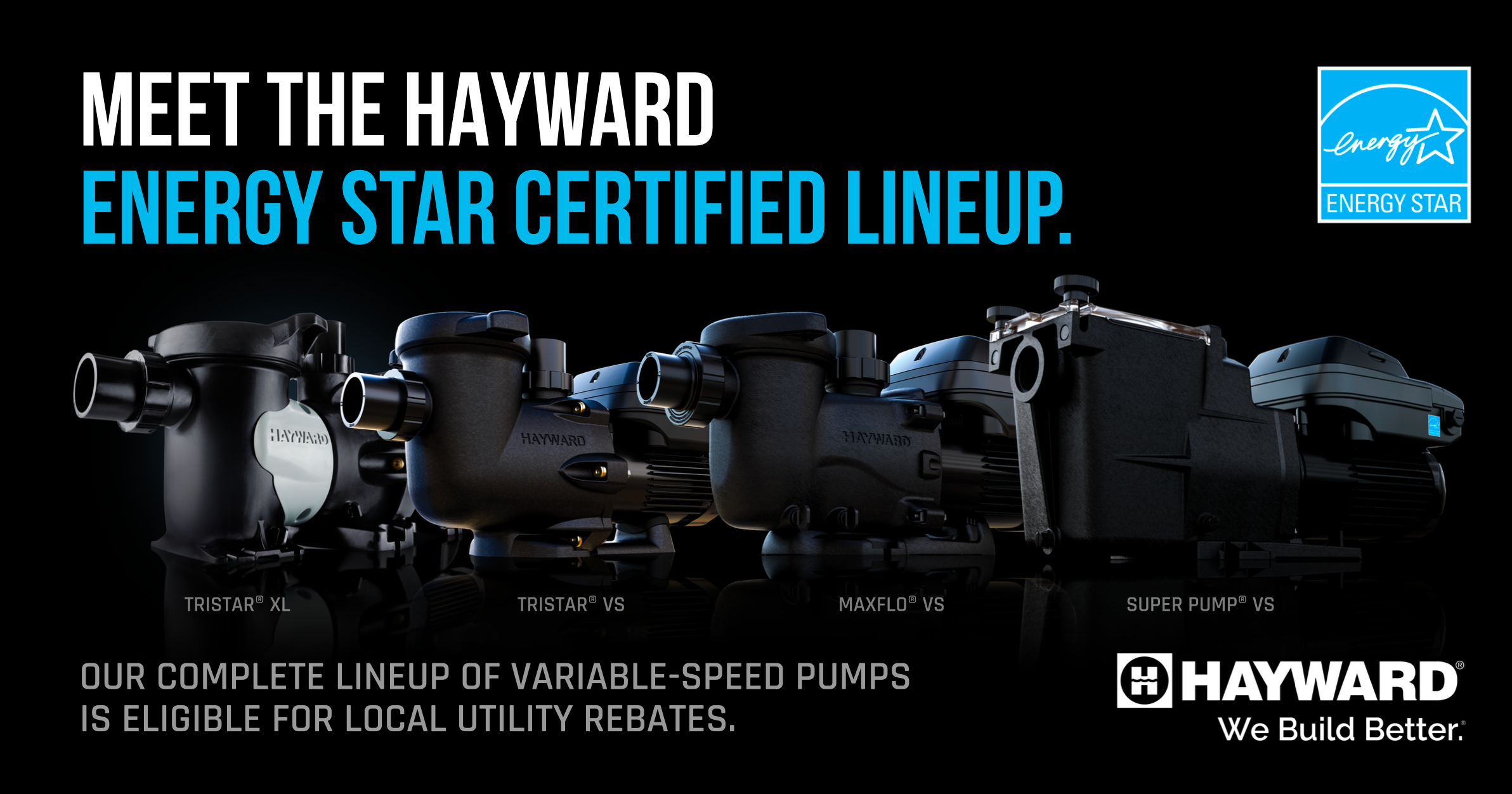 CHARLOTTE, N.C. – June 20, 2023 -- Hayward Holdings, Inc. (NYSE: HAYW) ("Hayward"), a global designer, manufacturer, and marketer of a broad portfolio of pool and outdoor living technology, today announced that all Hayward full-featured variable-speed pumps are now ENERGY STAR certified. The United States Environmental Protection Agency's (EPA) ENERGY STAR certification recognizes energy efficient, high-performance products compliant with the latest Department of Energy (DOE) energy efficiency standards.
Hayward's full suite of variable-speed pumps includes four models: TriStar XL, TriStar 950/900, MaxFlo VS 500 and now Super Pump VS 700. Users can program their pumps to optimize energy efficiency without compromising performance. Quieter operation, better filtration and lower hydraulic stress on other pool pad products are a plus while dynamic control of pump speed in harmony with water features can produce dramatic backyard effects adding to the ambiance of the pool and backyard living space.
"I am incredibly proud of Hayward's engineers, designers and product managers for achieving ENERGY STAR compliance for our entire suite of full-featured variable-speed pumps," said Kevin Holleran, Hayward's President and Chief Executive Officer. "The investment in design to increase efficiency without sacrificing performance demonstrates why we continue to be the number one rated products brand amongst U.S. pool professionals."
Pool owners with any of Hayward's five variable-speed pumps are now eligible for local utility rebates through ENERGY STAR's rebate program. By submitting pump model numbers, which will remain unchanged, consumers can enjoy savings of up to $500. On average, ENERGY STAR certified pool pumps are 65% more efficient than conventional models, and can, depending on region, save pool owners several hundreds of dollars in annual operating costs.
Hayward's pool equipment portfolio contains the broadest range of ENERGY STAR certified pool pumps, including their industry-leading line of ultra-high efficiency pumps: the #1 rated pumps in energy efficiency. Omni® SmartPad™ pool and spa automation products—which allows pool owners to set schedules and adjust their pool equipment remotely via their smart device—provide another energy-saving standout. Hayward's energy efficient products have delivered 2.4BN Kwh savings over the last three years.
For more information about Hayward products and ENERGY STAR certified products, visit energystar.gov.
About Hayward Holdings, Inc.
Hayward Holdings, Inc. (NYSE: HAYW) is a leading global designer and manufacturer of pool technology. With a mission to deliver exceptional products, outstanding service and innovative solutions to transform the experience of water, Hayward offers a full line of energy-efficient and sustainable residential and commercial pool equipment including pumps, filters, heaters, cleaners, sanitizers, LED lighting, and water features all digitally connected through Hayward's intuitive IoT-enabled SmartPad™.
Investor Relations:
Kevin Maczka
kmaczka@hayward.com
Media Relations:
Tanya McNabb
tmcnabb@hayward.com(opens in a new tab)